Victor LaGroon joins AHD as Head of Global Health Equity Strategy
Department of Veterans Affairs (VA)'s first Chief Diversity Officer, Victor LaGroon, joins AHD as Head of Global Health Equity Strategy
(Oct. 25, 2023) CHICAGO -  Assurance Health Data Inc., the leading provider of trust-based health data, networks, and ecosystems, announced today that Victor LaGroon will join the company as Head of Global Health Equity Strategy. In this new role, Victor will direct the company's strategic and operational vision to advance health equity and reduce health disparities for underserved communities through its client programs and partnerships.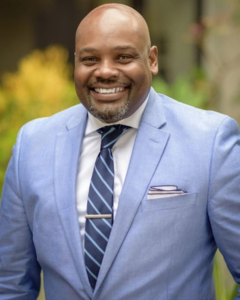 Victor was most recently the Chief Diversity Officer (CDO) at the Department of Veterans Affairs (VA) Office of the Secretary and was a voting member of the White House Chief Diversity Officer Executive Council. As CDO, Victor was responsible for developing and implementing VA's Inclusive, Diversity, Equity and Access (I-DEA) strategy and governance.
"AHD's mission is ending human suffering from rare diseases and cancer by utilizing trust-based networks to connect the world's health data," said Jason R Crites, Founder & CEO of Assurance Health Data.  "Victor, as one of the forefathers of the African Cancer Disparities movement, has demonstrated leadership by example at some of the world's largest and most innovative health systems and organizations.  We share a common vision: Equity = Access for urban, rural, and global populations."
Before his position with the VA, Victor held numerous roles at prominent health systems, including the City of Hope and the University of Chicago, where he was responsible for external partnerships and community and legislative relations. He also served as the first Director of the Mayor's Office of Veterans Affairs for the City of Chicago after being appointed by Mayor Rahm Emanuel and served as Chairman of the Advisory Council on Veteran Affairs for the City of Chicago, where he also sat on the Board of Commissioners for the Commission on Human Relations.
Victor credits his experience and its impact on serving people to his time spent with the 10th Mountain Division, U.S. Army, where he served as an Intelligence Analyst and was medically retired in 2006. He speaks nationally and has testified before the 117th House Veterans Affairs Committee on various issues, including access to care, Veterans benefits, transition, and employment strategies with a focus on those from at-risk and underrepresented communities.
Victor's deep expertise and leadership in building partnerships focused on diversity and equity will further advance Assurance Health Data's mission of reducing systemic barriers in our health system and building a more inclusive and equitable healthcare ecosystem that empowers patients to receive the best care possible.
"As sons of Veterans who later in life saw their lives impacted by cancer, Jason and I share a deep commitment to leveraging our capabilities and networks to drive change in closing the health equity gap," said Victor LaGroon. "Assurance Health Data's platform and network allows access to the world's richest health data and AI-powered insights for the programmatic closing of health equity gaps in urban, rural, and global populations."
About Assurance Health Data
Assurance Health Data's platform eliminates silos and connects the world's health data, networks, and expertise, fueling the healthcare and life sciences digital revolution.  ENABLING TRUST® provides patients and data owners full visibility and control of their data and transactions.  This simple approach allows for massive-scale, network effects data and insights sharing, solving some of the world's most intractable health problems, including health inequities.
Media Contact
Kellin Krick
Head of BD, Sales, and Partnerships
[email protected]
+1-651-587-6268